When it was announced that Kevin Spacey was going to host the 70th Annual Tony Awards, he commented: "I was their second choice for 'Usual Suspects,' fourth choice for 'American Beauty' and 15th choice to host this year's Tony Awards." Show-Score spent time imagining just whom the Tony Committee asked to host ahead of Spacey (or maybe not).
1. Tina Fey: We all know Tina Fey was considering the gig but she decided to pull a Cady Heron and ditch the art show for the lip gloss 2. Billy Eichner: Jennifer Ashley Tepper started campaigning on Facebook for Billy Eichner, of "Billy on the Street," to host the ceremony. We guess when approached about the gig Eichner started yelling expletives so the Tony Committee just walked away. 3. Dwayne 'The Rock' Johnson: He has a doll, he worked on "Moana," he may or may not have been asked to host the Tonys. 4. Daveed Diggs: Diggs was maybe in negotiations to host the 70th Annual Tony Awards but there was likely a standstill when he would not agree to rap his lines in a french accent. Maybe next year. 5. Stephen Sondheim: How does one top last year's show? Have an 87-year-old legend as master of ceremony. Sondheim would probably rather spend the evening drinking scotch and working on a puzzle than hosting an awards show he hasn't paid attention to in decades. 6. Times Square Elmo: All he wants to do is get people to take pictures with him, but we know Elmo is at least good on television!
7. Timon and Pumba: The duo from the long-running hit Broadway musical probably turned down the offer because Pumba was experiencing digestive complications.
8. Ethel Merman: Hooray! "Dolly" is back on Broadway and Merman, for whom the role was written, would totally host the show with brilliant theatrical flair. Unfortunately, she has been dead since 1984.
9. John Travolta: He can't pronounce Idina Menzel's name but he can probably host this year's Tonys - It would be hard to screw up "Chris Cooper" and "Justin Paul." We guess Travolta just never got back to them. 10. Taylin: This random girl could host the Tonys - Why not? 11. Tom Melcher: Show-Score founder Tom Melcher would have been the perfect host, if not for his devotion to Show-Score Members. "If we can't all host together, we will just watch at Planet Hollywood."
12. Hugh Jackman: Jackman can't host because because he is still "scarred" from "all that hopping."
13. Times Square Groundhog: This Times Square character, who claimed he is a "serious actor" in a "hot Broadway show" (yeah right), was maybe asked to host.

14. Randy Spacey: Randy is a Rod Stewart-impersonating limo driver. He was unavailable but recommended his brother, Kevin, who has actually been on Broadway multiple times. 15. Kevin Spacey: They took the scenic route but ultimately landed on a perfect host for the 2017 Tony Awards.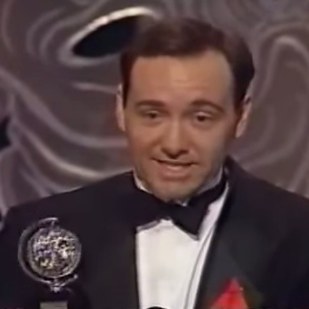 Who would you like to see host this Tonys? Let us know in the comments below!